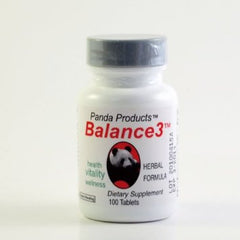 PANDA PRODUCTS BALANCE 3!!! LOWEST PRICE GUARANTEED!!!
LOWEST PRICE - GUARANTEED!!!
***FREE SHIPPING***
WE LOVE BALANCE3!!!



Panda Products Balance3 is Believed to be SUPERBLY EFFECTIVE in Maintaining HEALTHY BLOOD PRESSURE, ANXIETY, NERVES,SLEEPLESSNESS, etc.. (*)
Balance3 is a Proprietary Formula that Contains ... in VERY SMALL, Easy to Swallow Tablets:



All-Heal Flower (Spica Prunella)
Chrysanthemum Flower (Chrysanthemi Flos)
Honeysuckle Flower (Lonicera Japonica)
Notoginseng Root (Radix Notoginseng)
Water Fairy Flower (Cleistocalyx Operculatus)
Shiitake Mushroom (Lentinus Edodes Sing)
Pagoda Tree Flower (Sophora Japonica)
Other ingredients in Balance3 include: cellulose, magnesium stearate, dextrose.
WHAT DOES BALANCE3 DO?
According to the Manufacturer of Balance3 ...
"For many people it's possible to achieve health, vitality and wellness by using natural therapies (nutritional supplementation, exercise, diet, stress management, etc..)"
Doctors and People Around the Country Report the Following by Taking Balance3 as a Dietary Supplement:



1. Helps to Maintain Cardiovascular Function and a Healthy Circulatory System.
2. Helps to Relax.
3. Relief of Occasional Sleeplessness.
4. Occasional Simple Nervous Tension - Nervousness due to Common Every Day Overwork and Fatigue.
5. Helps to Work in a Relaxed State.
6. Gently Soothes Away Tension.
7. Helps Under Occasional Stress.
8. Improved Overall Health.



Give BALANCE3 a Try and Feel the Difference!
CAUTIONS: 
This product may cause drowsiness.
Disclaimer: Statements on this website have not been evaluated by the Food and Drug Administration. None of the products / services offered on this Web site are intended to diagnose, treat, cure or prevent any disease.
*Connotes already in a healthy range.