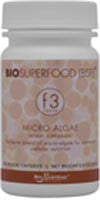 BIOSUPERFOOD F3 FORTE (60 CAPS)
***FREE SHIPPING***

 ***CALL OR EMAIL US FOR MULTI BOTTLE  SPECIALS ... AS WELL AS OUR FREQUENT BUYER PROGRAM!!!
ADVANCED SUPPORT
BIOSUPERFOOD F3 Forte 

offers advanced nutritional support for the immune system and increased vitality for healthy aging and ... 

it is also recommended as a replacement for some supplements and vitamins and as advanced nutritional support for athletes.
BENEFITS OF BIOSUPERFOOD F3 FORTE CAN INCLUDE ALL BENEFITS FROM FORMULAS F1 AND F2 PLUS ...
Advanced Protection and Prevention
Reduced Inflammation and Faster Recovery Time
Higher Natural Long-Lasting Energy Boost
Increased Recuperation and Regeneration
Powerful Immune System Support
DISCLAIMER: The Food and Drug Administration has not evaluated these statements. This product is not intended to diagnose, treat, cure or prevent any disease.