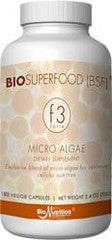 BIOSUPERFOOD F3 FORTE (180 CAPS)
***FREE SHIPPING***

 ***CALL OR EMAIL US FOR MULTI BOTTLE  SPECIALS ... AS WELL AS OUR FREQUENT BUYER PROGRAM!!!
ADVANCED SUPPORT
BIOSUPERFOOD F3 Forte 

offers advanced nutritional support for the immune system and increased vitality for healthy aging and ... 

it is also recommended as a replacement for some supplements and vitamins and as advanced nutritional support for athletes.
BENEFITS OF BIOSUPERFOOD F3 FORTE CAN INCLUDE ALL BENEFITS FROM FORMULAS F1 AND F2 PLUS ...
Advanced Protection and Prevention
Reduced Inflammation and Faster Recovery Time
Higher Natural Long-Lasting Energy Boost
Increased Recuperation and Regeneration
Powerful Immune System Support
DISCLAIMER: The Food and Drug Administration has not evaluated these statements. This product is not intended to diagnose, treat, cure or prevent any disease.
 ------------------------------------------------------------
 

HERE IS THE LONGER VERSION IF YOU'RE SO INCLINED!
BIOSUPERFOOD F3 FORTE IS AN EXTREMELY NUTRIENT DENSE FORMULATION OF VITAMINS, MINERALS, AMINO ACIDS, ENZYMES, ANTIOXIDANTS AND MICRO NUTRIENTS
BIOSUPERFOOD F3 FORTE CONTAINS OVER

 1

5,000

 

INDIVIDUAL

NUTRIENTS

 

(

INCLUDING DAILY ESSENTIALS

). FOR THE SAKE OR READING TIME - ONLY A FEW ARE LISTED HERE:
All known vitamins: A (precursors), B1, B2, B3, B5, B6, B12 (including human-active B12 and Inositol), C, D, E & K
Essential Fatty Acids (EFA): the "good fats that heal" rich in Omega 3, 6, 9,

 

ALAs (Alpha-Linolenic Acids), DGLA (Dihomogamma-Linolenic Acid), DHA (Docosahexaenoic  acid),

 

and rare GLA (its high gamma linoleic acid content is similar to early mother's milk)

 

and more fatty acids
All known essential amino acids plus ten additional non-essential amino acids (Isoleucine, Leucine, Lysine, Methionine, Phenylalanine, Threonine, Valine, Alanine, Tryptophan, Arginine, Aspartic Acid, Cystine, Glutamic Acid, Glycine, Histidine, Proline, Serine, Tyrosine)
All known minerals including calcium, magnesium, zinc, sodium, iridium, iron, iodine, potassium, manganese, phosphorous, chloride, potassium, sulfur, magnesium, etc. — calcium utilization at over 80%
Over 92 colloidal essential and natural trace elements like iron (Fe), iodine (I), copper (Cu), manganese (Mn), zinc (Zn), cobalt (Co), molybdenum (Mo), selenium (Se), chromium (Cr), tin (Sn), vanadium (V), fluorine (F), silicon (Si) and nickel (Ni)
Phytonutrients - Highly evolved nature's special forces like phycocyanin, quercitin, lycopene and others which enhance a multitude of unique health agents like calcium spirulan which is VERY INHOSPITABLE TO

VIRUSES

 

and

 

ABNORMAL CELLS

More than 4,000 natural active food enzymes that contribute to the efficient digestion of fats, carbohydrates and proteins, permitting greater assimilation of nutrients and total elimination of toxins
One of the richest sources of chlorophyll, with high levels of magnesium and calcium spirulan well-known agents for its antibacterial, anti-fungal and anti-inflammatory benefits
Astaxanthin and Dunaliella contain high levels of alpha-carotene, including cryptoxanthin and beta-carotene that offers powerful immunity and toxin shield against continuous pollution, toxins and stress with hundreds of times the antioxidants power of vitamin E and C, and up to 40 times that of beta carotene in carrots
Polysaccharides
Nucleic acids (RNA & DNA)
Chlorophyll with extraordinary calcium spirulan
Certified herbicide, pesticide and preservative free
The BIOSUPERFOOD Formula F3 Forte is even stronger than formula F2 and is used for; general nutrition support, replacement of most supplements and vitamins, general good health, anti-aging, immune system support, weight loss, dieting and fasting, sports and fitness, bodybuilding, prevention of deficiencies and degenerative conditions.
FEROCIOUS
ANTI-AGING
,
IMMUNITY
 

and

 
HEALING POWER IN THESE FORMULAS!
BIOSUPERFOOD F3 FORTE FORMULAS
... unlike many supplements on the market
are not
a conglomeration of separate, isolated vitamins and minerals, or extracted and concentrated ingredients bound together and compressed with fillers in a pill. They are actually whole foods containing just four micro-algae carefully grown, harvested, preserved and proportioned: Spirulina Pacifica, Spirulina Plantentis, Dunaliella and Heomatoccoccus Pluvialis. Together these algae contain thousands of naturally occurring nutrients like proteins, vitamins, minerals, chlorophylls, antioxidants, fatty acids, enzymes and lots more. So simple, read on to find out its extraordinary diversity!
BIOSUPERFOOD F3 FORTE

 

FORMULAS

 

are not a vitamin, a mineral, an antioxidant or enzymes - they are not even a supplement per say; they actually are all of the above. That is made possible only because the formulas are whole foods,

 
extra
 

ordinary whole foods. So the mission of the formulas is that of a food, that is to feed the cells of the body with required nutrients.

 




THE NUTRITIONAL MISSION OF BIOSUPERFOOD F3 FORTE  FORMULAS
The algae(s) found in BIOSUPERFOOD F3 FORTE Formulas have profoundly high nutritional and disease protection values resulting from the presence of green and red algae(s). The green algae in the formulas provides a broad nutrient spectrum with all of nature's important nutrients like proteins, vitamins, minerals, chlorophyll, enzymes, phytonutrients and antioxidants. The red algae in the BIOSUPERFOOD Formulas also contain an innumerable amount of nutrients, but are responsible for the highest concentrations of the critically important myriad antioxidants and carotenoids in the formulas.

 
GENERAL NUTRITION AND HEALTH MAINTENANCE
Many of those antioxidants and carotenoids in the BIOSUPERFOOD F3 FORTE  formulas, such as beta-carotene have been shown in published research papers to nourish the cells of our brain and eyes, due to their efficiency in crossing the blood brain barrier and the blood retinal barrier. Great for intestinal health in increasing the efficient digestion of food and absorption of nutrients, which can result in fewer cravings and less food consumed. Overwhelming independent research shows that high quality nutrients awaken your body's natural ability to heal. The American Cancer Society informs us that antioxidants and other carotenoids promote optimal health by boosting the immune system and protecting our cells from free radicals.
SPORTS & FITNESS
BIOSUPERFOOD F3 FORTE is ideal for the active, athletic individual who wishes to maintain peak performance, prevent injuries and promote recovery without using dangerous synthetic products, whether it is with bodybuilding, biking, swimming, or any other fitness activity that stresses your body.

 
VEGANS & VEGETARIANS
Each veggie capsule contains over 50% complete vegetarian protein with a net utilization greater than 95%. The BIOSUPERFOOD algaes also contain the rare vitamin B12. Consuming the algae was proven in large animal studies to increase the uptake of proteins and other nutrient from the daily diet.
BIOSUPERFOOD F3 FORTE ...
Contains the essential nutrients the body requires on a daily basis
Contributes to immune system support and acts as a free-radical shield
Is completely natural and safe for the young and the old
Significantly supports the body's self cleansing mechanisms
Provides superior quality cellular nutrition and resulting energy
Is a natural and safe option for excellent anti-aging benefits
Provides increased cellular vitality and strengthening of the organs
Provides excellent support for faster metabolic recuperation and energy
Consuming BIOSUPERFOOD F3 FORTE regularly may contribute to significantly supporting your immune system, increased vitality, healthier aging, the maintenance of good health, support when dieting or fasting, and support during peak performance in physically active individuals.
Your Health is your Number One Priority! Without it ... you have Nothing. Try the BIOSUPERFOOD Formulas Now and see how Dramatically your Health can Improve!
FDA Disclaimer - Statements on this website have not been evaluated by the Food and Drug Administration. None of the products / services offered on this Web site are intended to diagnose, treat, cure or pre
vent any disease.