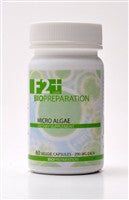 BIOPREPARATION F2+ FOR PETS (60 CAPS) - 2 BOTTLES!
THIS IS A 2 BOTTLE SPECIAL!

YOU

WILL

BE

RECEIVING

2

BOTTLES

!
***FREE SHIPPING***
***CALL OR EMAIL US FOR MULTI BOTTLE  SPECIALS ... AS WELL AS OUR FREQUENT BUYER PROGRAM!!!
GENERAL SUPPORT FOR ANIMALS  BIOPREPARATION F2+
THE BIOPREPARATION FORMULATIONS ARE DESIGNED FOR ANIMALS - A SUPER HEALTHY, HAPPY PET FORMULA!
See the BIOSUPERFOOD FORMULAS on our main page for THE BEST IN HUMAN NUTRITION AVAILABLE ANYWHERE! - FEROCIOUS ANTI-AGING, IMMUNITY and HEALING POWER IN THESE FORMULAS!   
BIOPREPARATION FORMULAS, unlike many supplements on the market are not a conglomeration of separate, isolated vitamins and minerals, or extracted and concentrated ingredients bound together and compressed with fillers in a pill. They are actually whole foods containing just four micro-algae carefully grown, harvested, preserved and proportioned: Spirulina Pacifica, Spirulina Plantentis, Dunaliella and Heomatoccoccus Pluvialis. Together these algae contain thousands of naturally occurring nutrients like proteins, vitamins, minerals, chlorophylls, antioxidants, fatty acids, enzymes and lots more. So simple!
GET BIOPREPARATION FOR YOUR PET TODAY! YOUR PET WILL LOVE YOU FOR IT - GUARANTEED!

FDA Disclaimer - Statements on this website have not been evaluated by the Food and Drug Administration. None of the products / services offered on this Web site are intended to diagnose, treat, cure or prevent any disease.